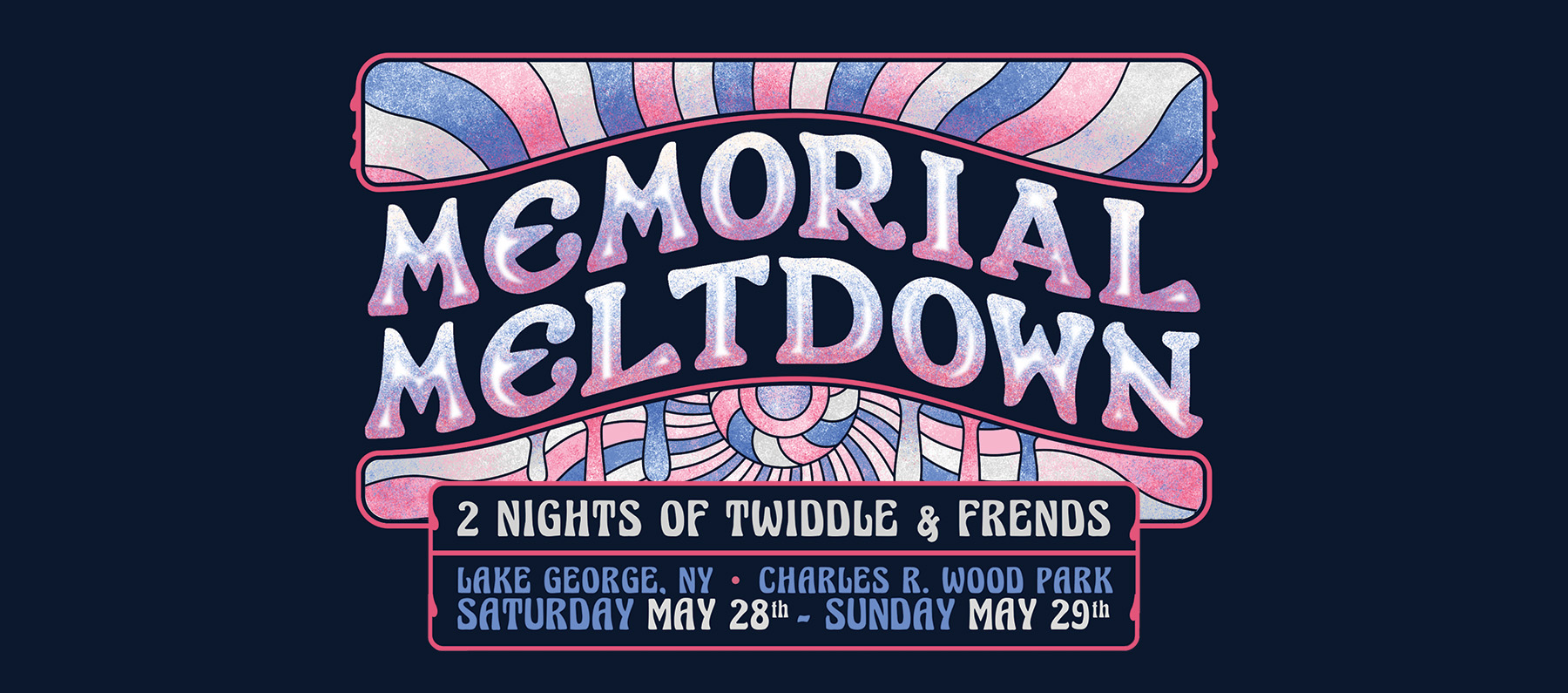 KICK OFF SUMMER WITH 2 NIGHTS OF TWIDDLE & FRENDS THIS MEMORIAL DAY WEEKEND IN BEAUTIFUL LAKE GEORGE, NY!
The Twiddle & Frends Memorial Meltdown will feature 2 sets of Twiddle each night on Saturday, May 28 and Sunday, May 29.  The weekend will also feature performances by Roots of Creation, Lucid, Sophistafunk, Marble Eyes, Baked Shrimp and The Whiskey Dicks with special guests Ryan Dempsey and Joe Cirotti.
Single-day and 2-day general admission and VIP tickets on sale Friday, March 4.
---
..
SATURDAY LINEUP
7:15pm – Twiddle (2 sets)
5:30pm – Lucid
4:00pm – Marble Eyes
2:30pm – The Whiskey Dicks
w/special guests Ryan Dempsey & Joe Cirotti
..
 SUNDAY LINEUP
7:15pm – Twiddle (2 sets)
5:30pm – Roots of Creation
4:00pm – Sophistafunk
2:30pm – Baked Shrimp
..
* Doors open at 1:30pm each day and music starts at 2:30pm
2-Day GA
*$106 Day of Show
1-Day VIP
$106 Day of Show
2-Day VIP
$206 Day of Show
*VIP tickets include: Admission to the show, a meal, snacks, half-priced adult beverages, $2 waters / soft drinks, a private viewing area (with private bar) and access to private bathrooms.
** $1 per ticket supports The White Light Foundation, Twiddle's affiliate 501c3 organization. The WLF makes financial contributions to non-profits local to where the band is playing each night.

17-19 West Brook Road, Lake George, NY 12845
FESTIVAL VENUE
Charles R. Wood Commons
17 W Brook Road
Lake George, NY 12845
About Charles R. Wood Park
The Charles R. Wood Park is a 12.5 acre area and home to the Festival Commons, located on Beach Road at the southern tip of Lake George. The park features the 2.5 acre festival space, an ideal location for special events as it is a multi-purpose facility, accessible year round. The park has a children's adventure playground, an environmental interpretive area, an interactive water feature and a skatepark.
Directions:
Take I-87 to Exit 21 (Lake George Village): follow the signs pointing towards Lake George Village. The Festival Space is 1.5 miles up U.S. 9 on the right.