July 2 – 4, 2021
GET THE LED OUT:


A CELEBRATION OF "THE MIGHTY ZEP"



with special guests:
Rich Ortiz (July 2,3)
Wild Adriatic (July 4)
__________
Gates: 5:30pm / Show: 6:30pm
Charles R. Wood Festival Commons
17 W. Brook Road | Lake George, NY 12845
*Online ticket sales will end at 4:30pm each day.  Both GA and Pod tickets will be available at the gate.
GENERAL ADMISSION
Admission for 1 Person in the GA section
POD PRICING
Admission for 4 or 6 people (depending on selected pod size)
4-person pod:

$220 / pod

6-person pod:

$330 / pod
4-person pod:

$200 / pod

6-person pod:

$300 / pod
6-person pods only:

$270 / pod
GET THE LED OUT
A CELEBRATION OF "THE MIGHTY ZEP"
From the bombastic and epic, to the folky and mystical, Get The Led Out (GTLO) have captured the essence of the recorded music of Led Zeppelin and brought it to the concert stage. The Philadelphia-based group consists of six veteran musicians intent on delivering Led Zeppelin live, like you've never heard before. Utilizing the multi-instrumentalists at their disposal, GTLO re-create the songs in all their depth and glory with the studio overdubs that Zeppelin themselves never performed. When you hear three guitars on the album…GTLO delivers three guitarists on stage. No wigs or fake English accents, GTLO brings what the audience wants…a high energy Zeppelin concert with an honest, heart-thumping intensity.
Dubbed by the media as "The American Led Zeppelin," Get The Led Out offers a strong focus on the early years. They also touch on the deeper cuts that were seldom, if ever heard in concert. GTLO also include a special "acoustic set" with Zep favorites such as "Tangerine" and the "Battle of Evermore" being performed in its' original instrumentation with guest singer Diana DeSantis joining the band. GTLO has amassed a strong national touring history, having performed at major club and PAC venues across the country. GTLO's approach to their performance of this hallowed catalog is not unlike a classical performance. "Led Zeppelin are sort of the classical composers of the rock era," says lead vocalist Paul Sinclair. "I believe 100 years from now they will be looked at as the Bach or Beethoven of our time. As cliché as it sounds, their music is timeless."
A GTLO concert mimics the "light and shade" that are the embodiment of "The Mighty Zep." Whether it's the passion and fury with which they deliver the blues-soaked, groove-driven rock anthems, it's their attention to detail and nuance that makes a Get The Led Out performance a truly awe-inspiring event!
w/s/g RICH ORTIZ, July 2 & 3
Rich Ortiz's style is truly his own and his music is his soul. Ortiz, never a wallflower, believes he is the product of his family's cultural diversity and strengths. Since the age of seventeen he's focused all of his talents and time on his acoustic solo act, if you can call it that. Rich plays guitar, harmonica, and peddle bass (with his feet), and he turns heads with his vocals! He has opened shows for CHICAGO, REO Speedwagon, STYX, Ted Nugent, Ludacris, Hoobastank, KC and the sunshine band, Jeffrey Gaines, Ryan Montbleau Band, The Wood Brothers,Robert Randolph and the family band, Tea Leaf Green, Zach Deputy, Kracker, Merl Saunders, Melvin Seals, Jim Weider and the Drifters.
Inspired by artists like Jim Croce, James Taylor, The Beatles, Stevie Wonder and Willie Nelson, he says "I feel I have to change every gig around in order to grow as a musician." He plays six and twelve string acoustic guitar and chooses not to cultivate a target audience. He thinks "ideally the feeling of people who leave the room or listen to your CD should be one of making someone's day. What comes out of your tongue says a lot about your soul."
As his passion for life grows stronger, so does the energy in his music. Rich is a truly rare, authentic talent.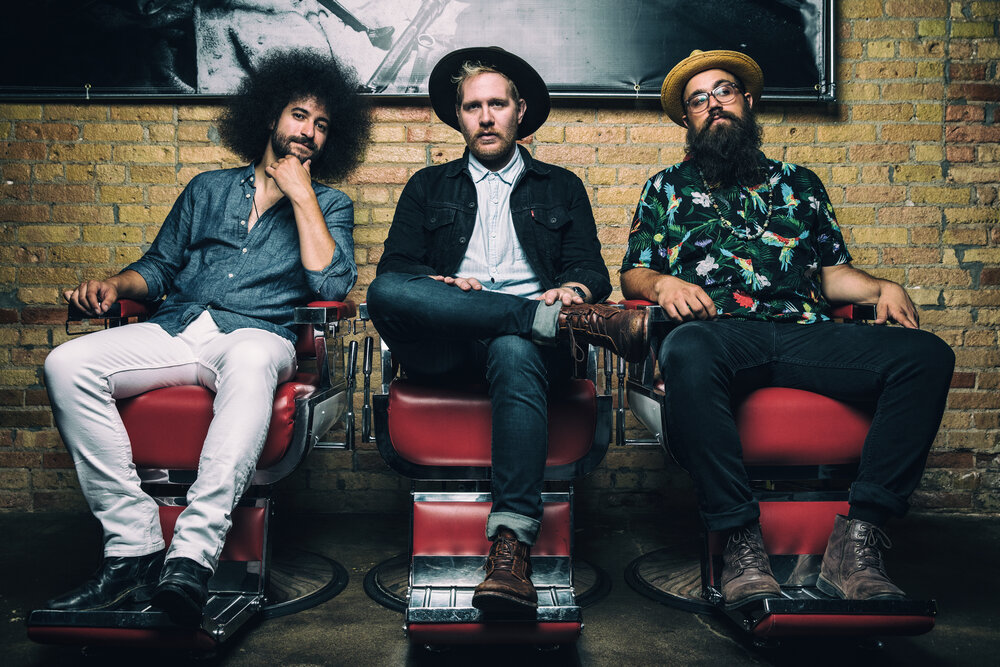 w/s/g/ WILD ADRIATIC, July 4th
'Our Time', the latest EP from upstate New York band Wild Adriatic, was produced by David Brandwein of Turkuaz. A collection of songs written during a writing retreat in scenic Lake Anna, Virginia, the effort is another furthering of the band's sonic abilities. 'Our Time' finds the band melding their rock & roll core with a broad palette of influences from 60s & 70s blues and soul, resulting in a fresh but still signature sound. In a world that gets increasingly difficult for independent artists, Wild Adriatic continues to carve out their corner of the music world.
Rooted in the rowdy spirit of rock & roll, Wild Adriatic has built an international audience on a combination of groove, grit, and guitar-heavy swagger. Whittled into sharp shape by a touring schedule that's kept them busy for roughly 250 days a year — including several European tours, countless stateside runs, and appearances at festivals like Bonnaroo & Mountain Jam — the band continues to place an emphasis on evolution.
With plenty of new songs and dance-party inciting jams, Wild A brings with it the next level of the explosive & fun live performance that gained them early acclaim from outlets like Rolling Stone, USA Today, and the Huffington Post.
GENERAL RULES & INFORMATION
ONE POD TICKET  = ADMISSION FOR 4 OR 6 PEOPLE (DEPENDING ON THE SELECTED POD)
ONE GA TICKET = ADMISSION FOR ONE PERSON IN THE GA SECTION
Pod Tickets:  By purchasing a pod ticket, you are purchasing a single pod, which includes admission for up to 4 or 6 people max to occupy that pod.  Each pod is roughly 8.5 ft x 8.5 ft and has roughly 8.5 ft of space on all 4 sides. Please Note: you will only be issued one (1) ticket for your pod so please plan to arrive with the other people in your pod, as each ticket can only be scanned one (1) time. 
Additional Rules:
Absolutely no refunds - No exceptions (other than cancellation of the event). 

Event is rain or shine.

Pods are transferable as long as the person you transfer to has the e-ticket as well as ALL other info as required per confirmation email at arrival. Each pod ticket can only be scanned one time so do not share your ticket with anyone.

No re-entry

No pets

No backpacks

No coolers

No outside food or drinks

One (1) unopened water or one (1) empty plastic drinking bottle allowed per person as well as special needs food items.

No fireworks

No weapons or self-defense products allowed

Clear handbags ONLY

Lawn / camping chairs are allowed and highly recommended (un-bagged only)

No EZ Ups or tents

No pod exchanges.

No pod hopping.
DISCLAIMER
DISCLAIMER:
Absolutely no refunds - no exceptions (unless the event is cancelled). Rain or shine. In the event of severe weather, announcements and instructions will be broadcast over the public address system. Lineups and times are subject to change. Any ticket suspected of being purchased for the sole purpose of reselling can be canceled at the discretion of Improv Records Inc or any agent appointed by Improv Records Inc. Tickets available at the door (if not sold out)
COVID-19 Warning/Terms & Conditions-
 All ticket holders freely and voluntarily assume all risks, hazards and dangers arising from or relating in any way to the risk of contracting a communicable disease or illness (including exposure to COVID-19, a bacteria, virus, or other pathogen capable of causing a communicable disease or illness), whether occurring before, during, or after the event, however caused or contracted, and hereby covenant not to sue and waive, release, and discharge any and all claims and potential claims against Improv Records Inc, Charles R Wood Festival Commons, The Village and Town of Lake George, Warren County, NY, their Boards, Officers and Employees, any and all affiliates, owners, members, officers, principals, directors, employees, agents, and volunteers relating to such risks to the fullest extent allowed under New York State  law. If you are purchasing tickets for other people, you agree that all parties have reviewed, acknowledged, and agreed to this waiver, and you warrant and represent that you have the right, authority, and capacity to enter into this Agreement on behalf of yourself, your minor children, and any other people for whom you are purchasing tickets. You hereby agree to indemnify, save, and hold harmless Improv Records Inc including all entities as described above from any and all loss, liability, damage, or cost, including attorney's fees, arising from or relating to exposure to or physical illness or death from COVID-19. We have taken enhanced health and safety measures – for patrons, artists, crew and staff. You must follow all posted instructions while on Charles R. Wood Festival Commons property. An inherent risk of exposure to COVID-19 exists in any public place where people are present. COVID-19 is an extremely contagious disease that can lead to severe physical illness and death.  Improv Records Inc (and appointed agents) has the right, at its sole discretion, to deny entry onto Charles R Wood Festival Commons' property for any reason, including but not limited to those reasons provided herein. According to the Centers for Disease Control and Prevention, senior citizens and guests with underlying medical conditions are especially vulnerable. By visiting Charles R. Wood Festival Commons, you voluntarily assume all risks related to exposure to COVID-19. By purchasing tickets you are in essence clicking "I Accept" and confirming you and all persons with you agree to these expressed conditions as well as any other conditions imposed by NYS, Warren County NY, and Village/Town of Lake George NY.

17-19 West Brook Road, Lake George, NY 12845
FESTIVAL VENUE
Charles R. Wood Commons
17 W Brook Road
Lake George, NY 12845
About Charles R. Wood Park
The Charles R. Wood Park is a 12.5 acre area and home to the Festival Commons, located on Beach Road at the southern tip of Lake George. The park features the 2.5 acre festival space, an ideal location for special events as it is a multi-purpose facility, accessible year round. The park has a children's adventure playground, an environmental interpretive area, an interactive water feature and a skatepark.
Directions:
Take I-87 to Exit 21 (Lake George Village): follow the signs pointing towards Lake George Village. The Festival Space is 1.5 miles up U.S. 9 on the right.