Friday, June 11
THE GARCIA PROJECT
with special guests:
DEADGRASS AND FRIENDS
presented by Guthrie Bell
and the LGD/50 Concert Series
__________
Gates: 5:00pm / Show: 6:00pm
Charles R. Wood Festival Commons
17 W. Brook Road | Lake George, NY 12845
(Please read all rules and information
below the band bios carefully)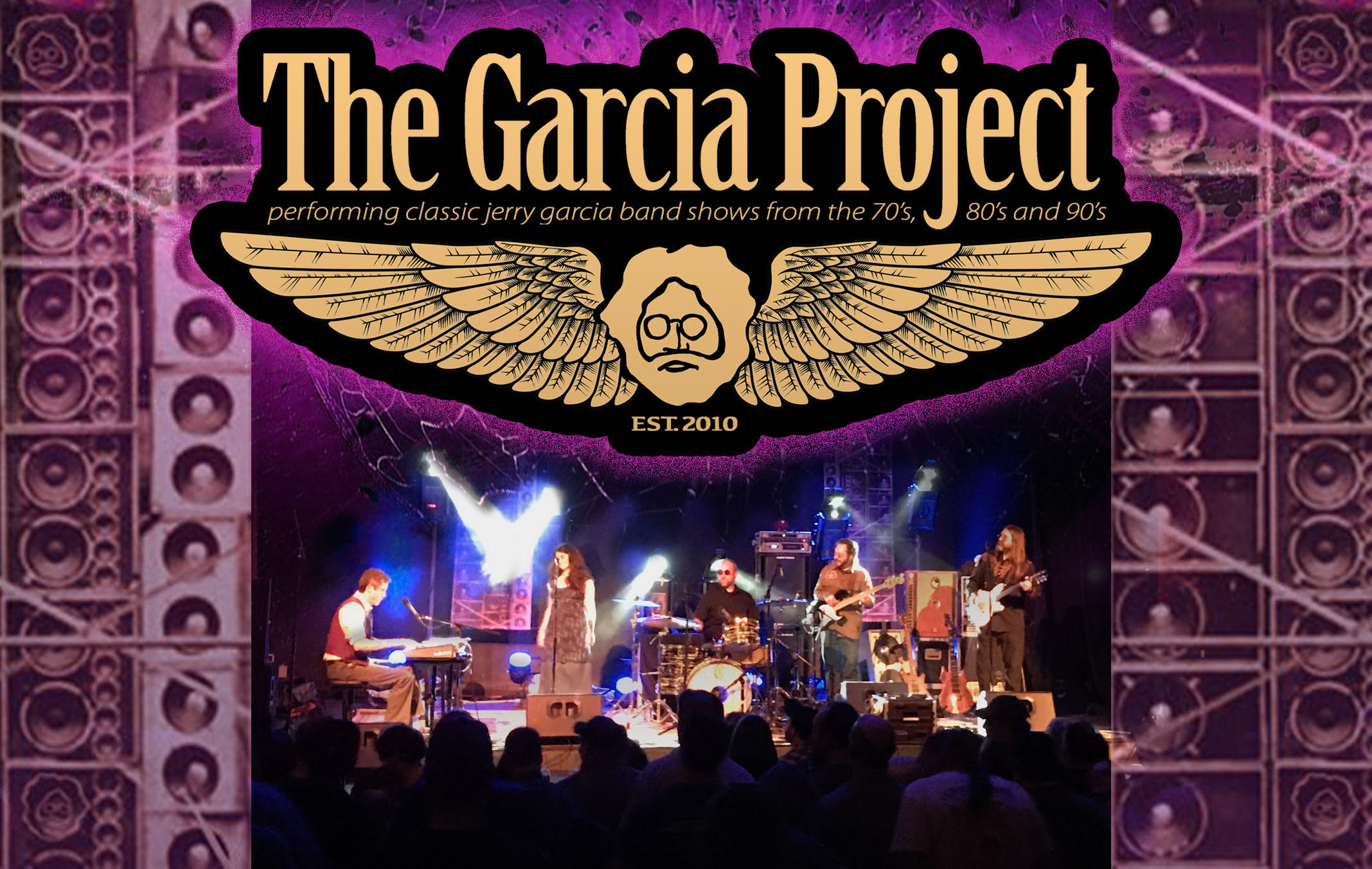 * This is a socially distanced, pod-style concert.
By purchasing a ticket, you are purchasing a single pod, which includes admission for up to 5 people to occupy that pod. All guests in your pod must arrive together.
The Garcia Project is the nationally touring, critically acclaimed tribute to The Jerry Garcia Band. The Garcia Project performs full, classic set lists from 1976 – 1995. The Garcia Project faithfully channels and projects the feelings, emotions and music that propelled the Jerry Garcia Band and the fans through many years of musical bliss. It's about family, soul searching, rejoicing, contemplating, celebrating, seeking truth and loving one another. It's The Garcia Project.
Check out our new album produced by Maria Muldaur and featuring Peter Rowan, Jacklyn LaBranch, Jason Crosby, Jacob Jolliff, Buzz Buchanan and more — SPIRIT: A tribute to Jerry Garcia and the spiritual songs he performed at www.thegarciaproject.com/spirit
"I spent a lot of nights in a lot of places with the Jerry Garcia Band, and I'm here to say that I really enjoy what The Garcia Project does with those memories.  Mik's guitar and his and Kat's vocals stir up some very sweet vibes…Check 'em out." — Dennis McNally, former publicist for the Jerry Garcia Band & The Grateful Dead
"For those of us who crave late 70's (and through the 80's and 90's) Jerry Garcia Band, The Garcia Project scratches that itch for hearing live renditions of JGB shows from that period."
— Bob Minkin, legendary Grateful Dead and Jerry Band rock photographer
"The Garcia Project's attention to detail on intonation and performance structure does set them apart as an authority on Jerry Garcia." – NYSMUSIC
Deadgrass & Friends
Grammy Award winner C Lanzbom (Vocals, Acoustic and Electric Guitars) brings his exciting and blues-laden style developed through decades of songwriting, international touring, recording dozens of studio albums, featured television performances, and more.  C is known for his work with Soulfarm (formerly Inasense), Deadgrass, Crystal Bowersox, and many more.  He runs Sherwood Ridge Studio, a premier recording studio in New York.
Russell Gottlieb (Banjo, Vocals) is an inspired performer whose playing is located at the intersection of careful introspection and reckless abandon and forged by the study of diverse influences from bluegrass and country to jazz and metal.  Russell is known for his work as a touring performer and songwriter with Steel Press, Deadgrass, and The Brummy Brothers.  He runs Three Wings Studios, a platform for creative music education.
Clare Maloney (Vocals, Guitar) delivers singing that is enthralling and powerful for audiences from Lincoln Center to Woodstock.  Known for her work with The Englishtown Project, Clare's interpretations of folk and rock favorites of the 60s and 70s have gained her a loyal following.  Trained in opera, she has also been featured on notable classical stages in the United States and Europe, along with a wide variety of recording projects.
James Kerr (Vocals, Dobro) uses his vast knowledge and experience to expand genre boundaries and confound expectations, while staying solidly rooted to foundations of Delta blues and bluegrass.  James is a committed performer and educator, appearing regularly at notable concert venues and festivals and holding both a master's degree and doctorate.  Dr. Kerr directs the Bluegrass Ensemble at Columbia University and teaches guitar at Naugatuck Valley Community College, and John Jay College of Criminal Justice (CUNY).
Ian Kenselaar (Upright Bass) is a multi-faceted and voracious student of music steeped in jazz and improvisation and never afraid to dive head-first into new styles and genres, including a special interest in old-time and bluegrass music.  Ian's fervor and focus have lead him to such esteemed venues as the North Sea Jazz festival and New Jersey Performing Arts Center with iconic artists including Savion Glover, JD Allen, and many more.  He currently educates and leads the next generation of musicians as a teaching artist at NJPAC.
GENERAL RULES & INFORMATION
ONE POD TICKET  = ADMISSION FOR 4 OR 6 PEOPLE (DEPENDING ON THE SELECTED POD)
ONE GA TICKET = ADMISSION FOR ONE PERSON IN THE GA SECTION
Pod Tickets:  By purchasing a pod ticket, you are purchasing a single pod, which includes admission for up to 4 or 6 people max to occupy that pod.  Each pod is roughly 8.5 ft x 8.5 ft and has roughly 8.5 ft of space on all 4 sides. Please Note: you will only be issued one (1) ticket for your pod so please plan to arrive with the other people in your pod, as each ticket can only be scanned one (1) time. 
Additional Rules:
Absolutely no refunds - No exceptions (other than cancellation of the event). 

Event is rain or shine.

Pods are transferable as long as the person you transfer to has the e-ticket as well as ALL other info as required per confirmation email at arrival. Each pod ticket can only be scanned one time so do not share your ticket with anyone.

No re-entry

No pets

No backpacks

No coolers

No outside food or drinks

One (1) unopened water or one (1) empty plastic drinking bottle allowed per person as well as special needs food items.

No fireworks

No weapons or self-defense products allowed

Clear handbags ONLY

Lawn / camping chairs are allowed and highly recommended (un-bagged only)

No EZ Ups or tents

No pod exchanges.

No pod hopping.
DISCLAIMER
DISCLAIMER:
Absolutely no refunds - no exceptions (unless the event is cancelled). Rain or shine. In the event of severe weather, announcements and instructions will be broadcast over the public address system. Lineups and times are subject to change. Any ticket suspected of being purchased for the sole purpose of reselling can be canceled at the discretion of Improv Records Inc or any agent appointed by Improv Records Inc. Tickets available at the door (if not sold out)
COVID-19 Warning/Terms & Conditions-
 All ticket holders freely and voluntarily assume all risks, hazards and dangers arising from or relating in any way to the risk of contracting a communicable disease or illness (including exposure to COVID-19, a bacteria, virus, or other pathogen capable of causing a communicable disease or illness), whether occurring before, during, or after the event, however caused or contracted, and hereby covenant not to sue and waive, release, and discharge any and all claims and potential claims against Improv Records Inc, Charles R Wood Festival Commons, The Village and Town of Lake George, Warren County, NY, their Boards, Officers and Employees, any and all affiliates, owners, members, officers, principals, directors, employees, agents, and volunteers relating to such risks to the fullest extent allowed under New York State  law. If you are purchasing tickets for other people, you agree that all parties have reviewed, acknowledged, and agreed to this waiver, and you warrant and represent that you have the right, authority, and capacity to enter into this Agreement on behalf of yourself, your minor children, and any other people for whom you are purchasing tickets. You hereby agree to indemnify, save, and hold harmless Improv Records Inc including all entities as described above from any and all loss, liability, damage, or cost, including attorney's fees, arising from or relating to exposure to or physical illness or death from COVID-19. We have taken enhanced health and safety measures – for patrons, artists, crew and staff. You must follow all posted instructions while on Charles R. Wood Festival Commons property. An inherent risk of exposure to COVID-19 exists in any public place where people are present. COVID-19 is an extremely contagious disease that can lead to severe physical illness and death.  Improv Records Inc (and appointed agents) has the right, at its sole discretion, to deny entry onto Charles R Wood Festival Commons' property for any reason, including but not limited to those reasons provided herein. According to the Centers for Disease Control and Prevention, senior citizens and guests with underlying medical conditions are especially vulnerable. By visiting Charles R. Wood Festival Commons, you voluntarily assume all risks related to exposure to COVID-19. By purchasing tickets you are in essence clicking "I Accept" and confirming you and all persons with you agree to these expressed conditions as well as any other conditions imposed by NYS, Warren County NY, and Village/Town of Lake George NY.

17-19 West Brook Road, Lake George, NY 12845
FESTIVAL VENUE
Charles R. Wood Commons
17 W Brook Road
Lake George, NY 12845
About Charles R. Wood Park
The Charles R. Wood Park is a 12.5 acre area and home to the Festival Commons, located on Beach Road at the southern tip of Lake George. The park features the 2.5 acre festival space, an ideal location for special events as it is a multi-purpose facility, accessible year round. The park has a children's adventure playground, an environmental interpretive area, an interactive water feature and a skatepark.
Directions:
Take I-87 to Exit 21 (Lake George Village): follow the signs pointing towards Lake George Village. The Festival Space is 1.5 miles up U.S. 9 on the right.