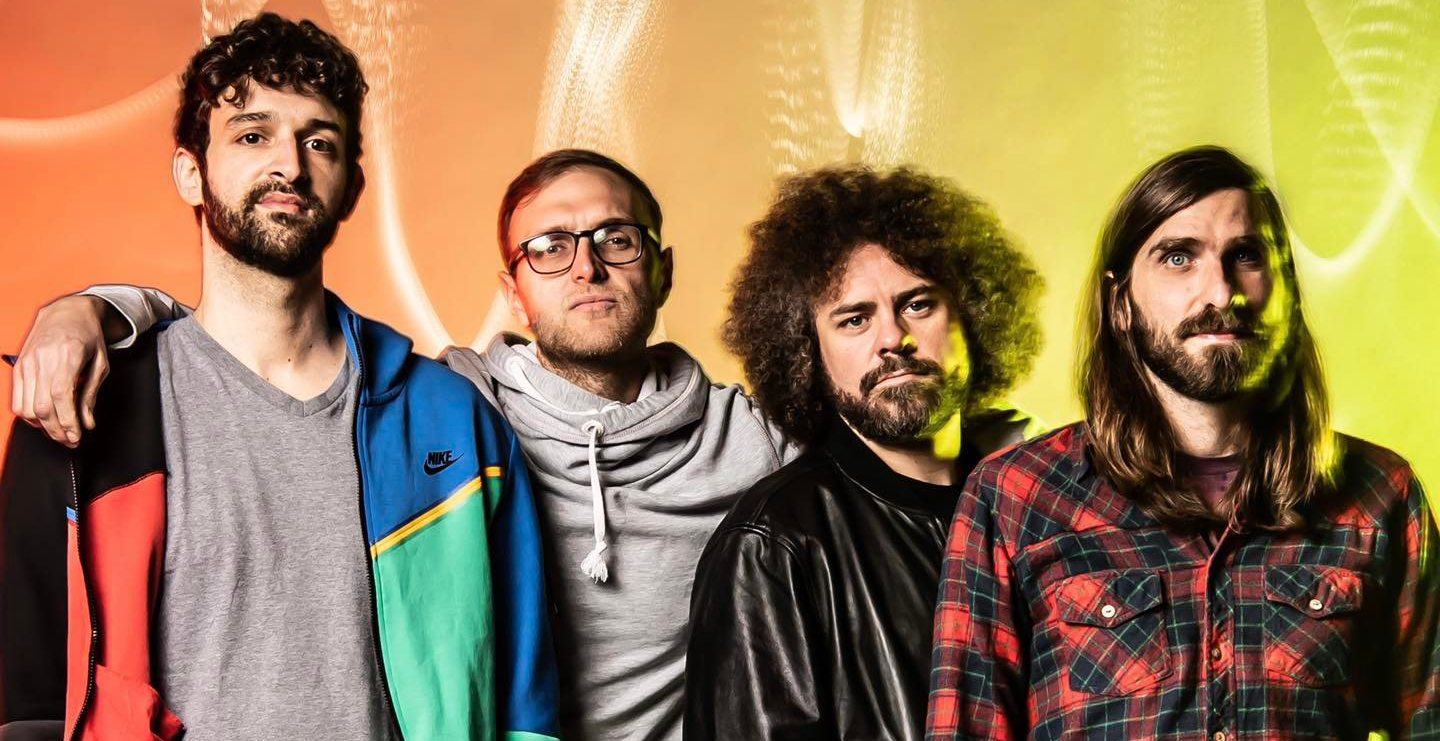 Music resides in the fourth dimension unaffected by the constraints and restrictions of this mortal coil. Instead, it occupies the ether, affecting us emotionally, physically, and spiritually without concrete form or shape. As such, Dopapod access a heightened level of cosmic harmony in their music. The quartet—Eli Winderman [keys, vocals], Rob Compa [guitar, vocals], Chuck Jones [bass], and Neal "Fro" Evans [drums]—present albums as experiences meant to be shared out of your speakers and on stage. After generating millions of streams, packing shows coast-to-coast, and earning acclaim from Rolling Stone, Guitar World, Glide Magazine, and more, the group architect an immersive and expansive vision on their self-titled seventh full-length offering, Dopapod.
"At the end of the day, we hope we represent being yourself, being unique, and trying to do something new," exclaims Eli. "If everyone does that, I think the world would be a much more interesting place all around."
Dopapod have definitely done their fair share to make the world more interesting…
The group's hypnotic hybrid of funk, rock, jazz, bluegrass, and electronica bloomed brilliantly on 2009's Radar, and it continued to blossom on the likes of Never Odd Or Even [2014] and Megagem [2017]. Along the way, fan favorites such as "Present Ghosts" reeled in 2.4 million Spotify streams and counting. 2019's Emit Time arrived to acclaim from Guitar World, Relix, Glide, Jambase, and more. Simultaneously, they sold out headline gigs and graced the bills of Electric Forest, Summer Camp, High Sierra, and Bonnaroo where Rolling Stone named them among the festival's "best kept secrets." After a marathon near-decade run, they enjoyed an almost year-long hiatus to realign and reenergize before reuniting with a new fire during 2019 and partaking in something of a "soft return."
The guys agreed, "Taking the break felt like a necessary step for everybody to just step back and zoom out. It's definitely a new chapter, because it allowed us to redefine our endeavor and carry on with a lot of new energy. It was a restorative thing and helped us move forward. It wasn't even really spoken, but more like, 'We're back on track'."
Throughout 2019, the boys performed select shows as they assembled what would become Dopapod in Syracuse, NY. However, the road shutdown in the face of the Global Pandemic. So, they spent the time off wisely, using it to perfect the music.
They also picked up the threads of a loose "concept catalog" first introduced on Never Odd Or Even
"We check in on this conceptual theme of time travel every once in a while," reveals Rob. "It's peppered on songs throughout a bunch of our albums. The storyline goes all over the place as far as the band timeline. It's on different records from various years, but it works perfectly."
"In addition to tracks about time travel, we have songs about being in the present moment on every project," continues Eli. "Those concepts are opposites. However, they're like a binary pair—similar to Dopapod, which is a palindrome. It's a symmetrical word, and the songs play with themes of left-right and right-wrong."
They add yet another dimension to the music this time by including an actual board game as part of the vinyl's gatefold. It further explores the theme of time travel through a retrospective journey through the band's discography. To bring this to life, they conceptualized, designed, created, and tested the game with former tour manager, lighting director, and sound engineer Luke Stratton. Players follow a wormhole through time and arrive at Dopapod. They chose to self-title their seventh offering as a totem to the fact they've realized their full potential in terms of music and vision.
"It's genuinely four-dimensional," observes Neal. "You can hang out with your friends and play the game or play it alone. A lot of people don't sit around and enjoy each other's company like this anymore. We're often just watching screens, so it's cool to turn Dopapod into something more than just an album."
After initially teasing Dopapod with "Think," the single "Grow" rides an intergalactic groove punctuated by a head-nodding bassline, slick guitar, simmering cymbals, and smooth vocals.
"The lyric 'big things have small beginnings' is from the movie Prometheus," notes Eli. "Microscopic particles are the start of life. This is how we evolve. The song could be about a character time traveling back to the Big Bang."
"Black Holes" dives into the embrace of frenetic riffs and keys as Eli sings, "All for one and for all. You'll never fly 'till you learn to fall." He elaborates, "The song continues the theme where you're falling into black holes."
The distorted groove of the instrumental "Building A Time Machine" dissolves into theatrical piano and off-kilter harmonics.
"In theory, this is the song where the album's story is made possible," the frontman explains. "We're creating the time machine here and can travel back."
Then, there's "Fannie." The guys originally crafted the song on an acoustic guitar at a campsite in Colorado. It stuck around and organically morphed into a personal favorite for the band.
"Between Eli and I, this nice alchemy happens," Rob goes on. "We leaned on the groove, and the lyrics sounded phonetically cool, so it all worked together."
The album culminates on the upbeat "Time Is Funny." Swaggering organ undercuts hummable melodies with lyrics inspired by Tim and Eric.
"We're big Phish fans, so I wanted to get it out of my system and write something unapologetically influenced by them," adds Rob. "As far as the thematic element goes, the time traveler recognizes the irresponsibility of even inventing a time machine in the first place and thinks, 'This is a really bad idea!'"
Offering the deepest experience yet, Dopapod also collaborated with Tandem media on an accompanying animation project, pairing each track with a visualizer to translate the core messages on screen. These animated loops encourage further immersion, unspooling the threads of a larger cohesive mystery. It can of course be absorbed track by track or in its entirety. As always, there's more to Dopapod's vision with the board game, animation, and union of the physical and digital elements.
Ultimately as they continue touring and releasing music, Dopapod share an important message.
"It all comes down to being satisfied with where you are and that you're enough," Eli leaves off. "No matter what state you're in, it's going to evolve and change. If you're really sad, know it's going to turn around. If you're depressed, the storm system will pass with the blue sky behind it. Keep going."​
CHECK OUT MORE ARTISTS FROM THE 2022 LINEUP